High Value Cannabis Wellness and Vape Product Sector: Endexx Corporation (Stock Symbol: EDXC) Revenues up over 1000% from previous year due to great Product Lineup.
For more information on $EDXC visit: www.endexx.com www.cbdunlimited.com and www.tryhyla.com
For HYLA, securing this reorder in Italy not only underscores the demand for non-nicotine vape products, but also reaffirms the strength and vitality of our distribution relationships.
The Marijuna Industry is heating up and so are these Investments: $EDXC $IMCC $CGC $CURLF $GTBIF $CRLBF $JAZZ $SMG $TLRY $OGI $LFLY $HYFM $CRON $ACB $MAPS $IIPR $VRNOF $GLASF $TCNNF.
Developing and Marketing All Natural, Cannabis-Derived Wellness Products and Topical Skincare Products.
Also Involved with Strategic Partners in the Entertainment, Marketing, and Distribution Arenas.
New Strategic Partnership with Italy-Based Marketing Firm XVI Ventures.
Very Popular HYLA Vape Product Currently Sold in 3,500 Stores in Italy at 7.5% Growth Rate per Quarter.
$400,000 Reorder for Non-Nicotine HYLA Vape Product Highlights Accelerating Product Demand.
Quarter Ending March 31, 2023 Showed Increasing Revenues Year-Over-Year of 1013% and Six Month Revenues Grew 528%.
Reclassification Under the Controlled Substances Act Offers New Pathway for Institutions and US Investment Banking to Participate in the Cannabis Industry.
Veteran Abbot Laboratories Sales Manager for Middle East and Africa Brings Industry Experience to EDXC.
Endexx Corporation (OTCQB: EDXC) develops and distributes all natural, plant-derived wellness products and topical skincare products. EDXC products vary from balms, creams, lotions, butters, masks, scrubs, and oils, all with the shared purpose of healthy skin and grooming wellness. The science behind EDXC products involves a decade of clinical research in the field and lab work to provide functional formulation with ingredients for optimal absorption and support of skin health.
The global beauty and wellness product market size was valued at USD 1,504.4 billion in 2022 and is projected to grow from USD 1,610.5 billion in 2023 to USD 2,765.8 billion by 2030, exhibiting a CAGR of 8.03% over the forecast period. Source: https://www.fortunebusinessinsights.com/beauty-and-wellness-products-market-108456.
The EDXC management team and its advisory group each have a minimum 10-50 years of experience in their respective fields. The EDXC professionals all have experience in growing businesses, developing, and implementing new consumer products and technologies with an emphasis in the medical, biotech and life science industries.

$EDXC CBD Unlimited at Rite Aid
$EDXC #EDXC Partners
EDXC is also involved in joint ventures with strategic partners in the entertainment, marketing, and distribution arenas. EDXC has made strategic acquisitions over the last several years that are now cohesively accelerating the company into its revenue growth stage.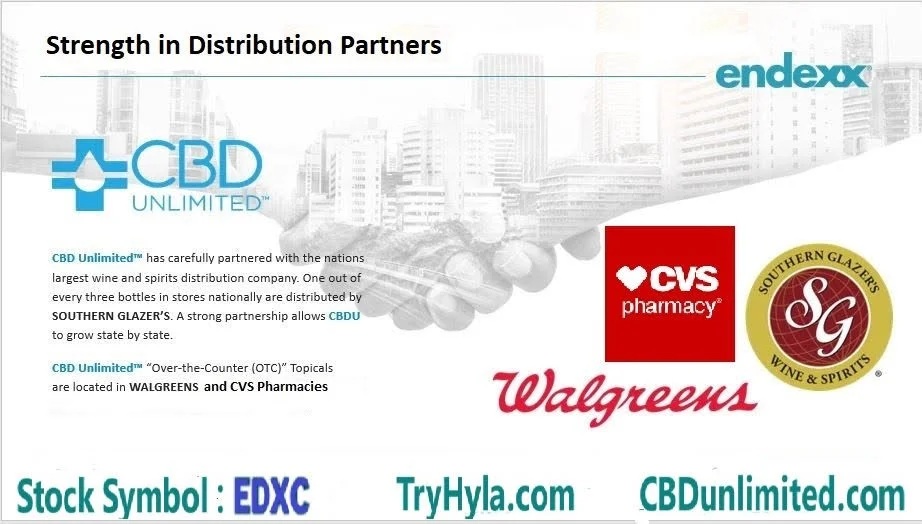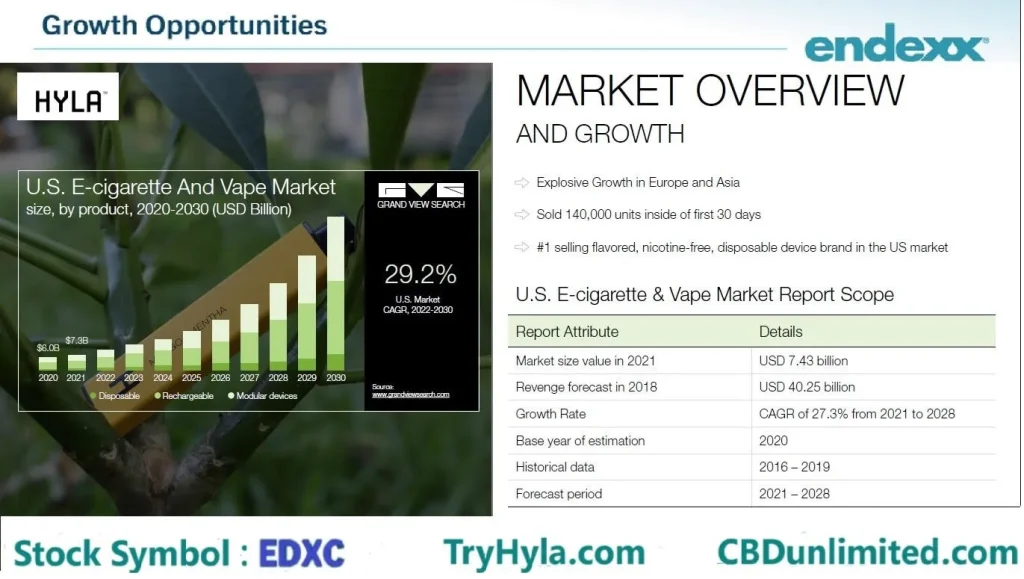 $EDXC HYLA Product
EDXC owned Hyla currently markets its proprietary non-nicotine, guarana and L-Dopa-based vape products in a wide variety of flavors. The EDXC Hyla device is the first non-nicotine vape product to be produced in this manner in the United States and provides an unprecedented 4,500 puffs per device. Hyla is currently being distributed in 10 countries and has signed distribution agreements with an additional nine countries.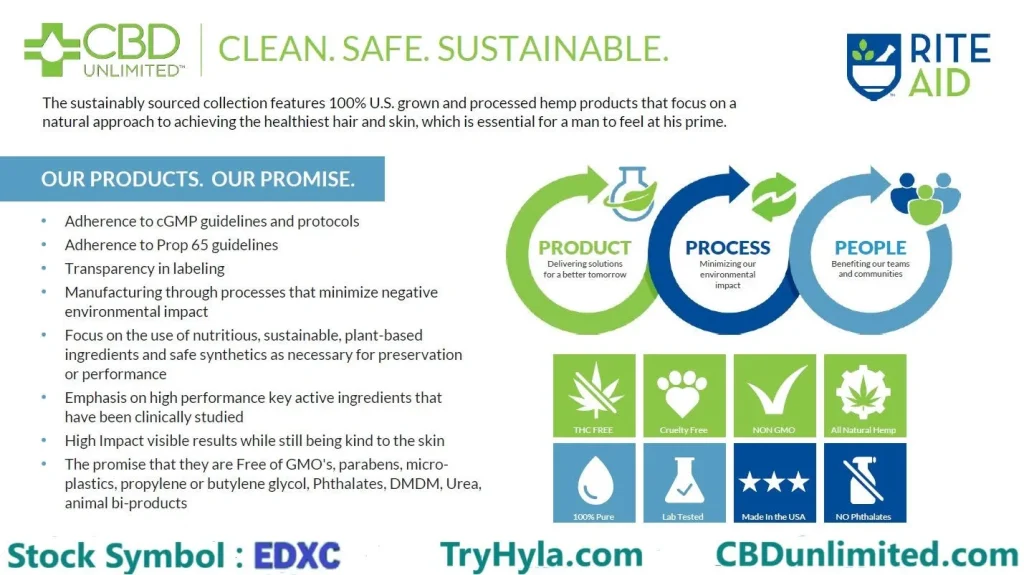 $EDXC Clean and Safe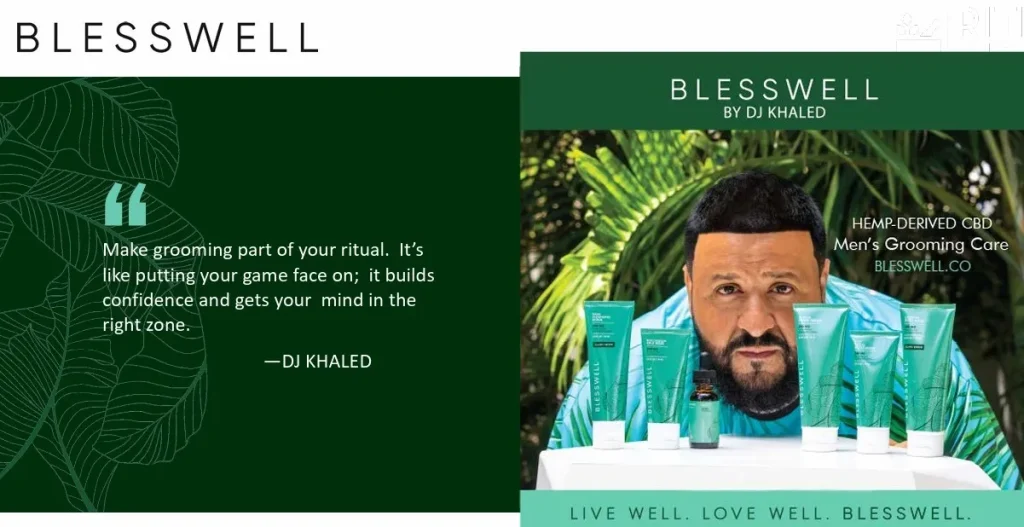 $EDXC Blesswell #DJKHALID
The global e-cigarette and vape market size was estimated at USD 22.45 billion in 2022 and is expected to reach USD 28.17 billion in 2023. Source: https://www.grandviewresearch.com/industry-analysis/e-cigarette-vaping-market.
For more information on the EDXC Hala project visit: www.tryhyla.com.
Websites: www.endexx.com ,www.cbdunlimited.com and www.tryhyla.com.
NEWS
Media Contact